Pin It
Since Tuesday (3/24/14) was Sarah Jessica Parker's 49th birthday, I felt compelled to do some analytical work on her best role EVER, Carrie Bradshaw.
And by "analytical work", I clearly mean analyzing the fashions of Sex and the City, styled by the amazing Patricia Fields.
side note- I'm so mad at myself for acting like Carrie Bradshaw is real and has really made these choices, but #itiswhatitis
The Best of Carrie Bradshaw
This beautiful, full skirt frock is from season 6, part 2, when Carrie had moved to Paris with "The Russian". I always loved this because I would TOTALLY wear this...in Paris, in New York, in Springfield, IL! I also liked that is was paired with the champagne-colored blazer to make it a little less "Cinderella Ball".
Also from season 6, this fuscia Oscar de la Renta dress is TO DIE.
And she went to McDonald's in this dress! Carrie is just like us!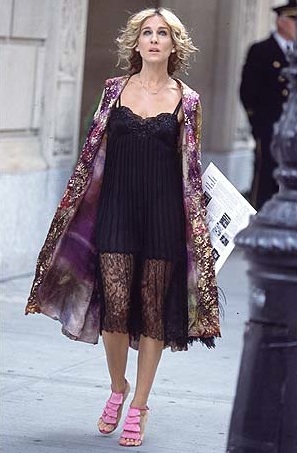 I remember when I first saw this episode, I was OBSESSED with her coat. Never was much for the shoes, but didn't Miranda's water break on those shoes?
I had a hard time finding photos of this one, but yet another beautiful coat from season 6!
This outfit absolutely KILLS ME. The dress, the coordinating jacket, the pseudo-gladiator sandals and the Eiffel Tower bag! Loooove!
This may be a more unconventional favorite, but I think that I like this so much partly because this I can recall seeing fanny packs like this one in Macy's months after this episode aired. This ensemble influenced the masses, people!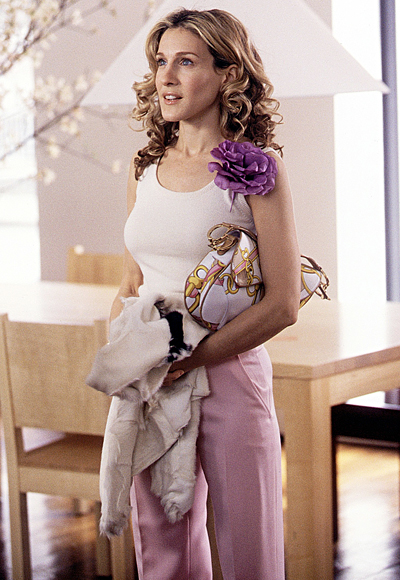 Here is another example of Carrie Bradshaw influencing the fashion industry. These flowers were freaking everywhere. I love this look also because it is more casual and laid back. Like she is just being normal and not dressing up in something too "costume-y".
Rounding out my favorites with this classic from the opening credits. Who knew this little vintage tutu would become so iconic?!
The Worst of Carrie Bradshaw
I cannot determine the rhyme or reason for this tragic ensemble, but I think she was going for a
rogue Indiana Jones: the naked cowboy years.
Ohhhh if there is one thing in this world that I really dislike, it's ruching. This frock was likely purchased from your local Deb store, and the white pumps were borrowed from Molly Ringwald. And then the turban. Because, why not?
"Newsies" in volleyball shorts.
This vintage coat was a staple in seasons 1 & 2 and popped up randomly throughout the series and the 2 movies and I NEVER EVER liked it. I don't know if it was the color of the fur, or her hair, or both, but I always thought she looked like a hot tranny lioness mess.
I think I always associate this dress with Carrie being a home-wrecker, but it's confusing to me. Are you supposed to wear it or read it? Is it weird or socially unacceptable if you are reading her dress in an elevator? Because that's what I would likely do.
The belt is clearly functional: trying to keep her stomach taut and her organs smashed down.
This may be blasphemous, but I was never down with the dress or the bird on her head. Too much and doing ALL the things.