Pin It
Ahhh, childhood crushes. Takes me back to the good old days of sitting around the lunch table with friends, discussing the merits of the boys from Home Improvement or the guys in Backstreet Boys., all while enjoying a sancho, some corn, and some chocolate milk from the Christ the King Elementary School cafeteria holler! I would say, in large part, that my childhood crushes weren't your traditional ones. No Jonathan Taylor Thomas or Devin Sawa for me. I preferred your more atypical gents:
John Stamos
Oh Uncle Jesse. I loved him despite the mullet and the crazy '80s jeans. He could sing, he could dance, and his hair only got better as the series went on. What a gem. And when Jesse and the Rippers reunited on Jimmy Fallon? Be still my heart.
Zach Morris (aka Mark Paul Gosslear)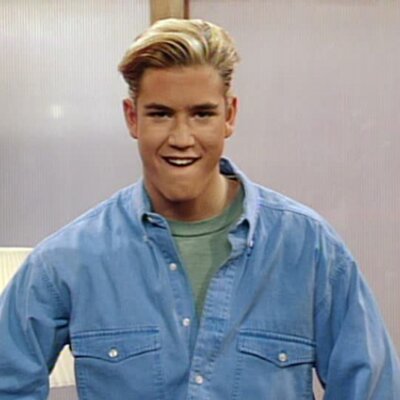 I really liked Zach Morris circa when Saved by the Bell was no longer in the Jr. High-Haley-Mills-as-Miss-Bliss era. He was real naughty and wreaked havoc on Bayside High and likely made Mr. Belding get more than one ulcer. But he was my favorite trouble maker.
John Travolta (in Grease and Look Who's Talking ONLY)
Here we go again with a dude who can sing and dance. I LOVED watching Grease. I knew all the liens. In fact, I even had a great babysitter who would bring pretzel sticks so that I could pretend to put out my fake cigarette in the carpet (on top of a paper towel, of course) when Sandy said, "Tell me about it, stud." And then I became obsessed with the Look Who's Talking movies and just loved him. Quite the charmer.
Billy Joel
The piano man. My one and only, and still love him to this day! Super talented, plays the piano, great personality, and the writer of my favorite song of all time, Uptown Girl. Plus he is handsome and has just enough bags under his eyes to make him relatable. Plus, I have bags under my eyes. It's written in the stars, people. My man, Billy, has seen better days, but I still think he is a stone cold fox.
Billy in the 1980s on top...Billy in present day on bottom