Pin It
How cool is it that we live in a time and place where technology is so advanced? We can video chat with people, just like in The Jetsons, our cell phones are basically tiny computers, and speaking of computers, they now weigh like 1 lb! But the best thing, in my opinion, is the invention of Netflix. With the click of a remote or mouse (and a monthly subscription), you can pull up a million different options for television series and movies. No more driving to the video store to rent, or even having to do a Redbox! This technological sorcery is what makes the world go 'round, folks!
So, today, let's explore some of the best Netflix options at your disposal based on your current mood:
Current Mood: Slightly angsty with a desire for period costuming
Netflix Suggestion: Reign
The new alternative to The Tudors, Reign follows the story of Mary, Queen of Scots and her rise to power. Definitely full of drama, this should feed your need for watching drama worse than what you are currently facing . This gal has an entire country's future on her shoulders! These are obviously not amateur problems. The costuming is lovely, the drama intense, and there is also a fairly strong sexual undercurrent. Not necessarily fine family fun, but good for solo fun. That may have come out wrong or weird, but you know what I mean.
Current Mood: Nostalgic for the days of Aquanet
Netflix Suggestion: Saved by the Bell
Yes, the kids of Bayside High are back (as long as you have a Netflix account.) This show never fails to bring me back to grade school, sitting on a blanket in front of the tv watching after school. The hair, the one hallway of lockers, the strange relationship with the kids and Mr. Belding. Plus, these episodes are all of 25 minutes, so you can get through probably the whole series over a weekend of Netflix binging. Not that I do that. Ever.
Current Mood: Needing Convinced that your Family Isn't the Craziest
Netflix Suggestion: Arrested Development
Truly, your family cannot be as weird as the Bluth family, so watching this will make you feel pretty good about your family life. Kind of like how going to Walmart can make you feel like you really have your life together, so can watching this show. Plus, the show is hilarious and a little nonsensical, which is a bonus. I feel as though I've learned many life lessons from watching the Bluth family, but the most important of all: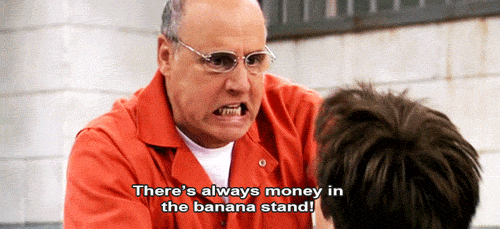 Current Mood: A little sad and in the mood for some controversy
Netflix Suggestion: Jodi Arias: Dirty Little Secret
Admittedly, I have not watched this, but you best believe when I get a couple free hours, I will be watching it. Based on the murder trial that was a big deal a few years ago, aspiring photographer, Jodi Arias was put on trial for allegedly killing her lover, and found guilty for the crime. She was sketch.com and those bangs made me wildly uncomfortable every time I would see her on CNN or CourtTV.
Current Mood: Feeling all the feels
Netflix Suggestion: Mystic Pizza
Oh man, I love this movie. It's just one of those feel-good-old-standby movies that just makes you smile, cry, and laugh. Plus young Julia Roberts is just lovely. A great story of friendship and young love. So many feelings!
Current Mood: Super Silly
Netflix Suggestion: Airplane!
I cannot say enough good things about this movie. It was made in 1980 and it is absolutely hilarious. It just puts me in a good mood and makes me laugh so hard. I would highly recommend to anyone who just needs a good giggle.