Pin It
Alright. I won't sugar coat this for y'all. I actually am not a huge Halloween fan.
#sorrynotthatsorry
.
I think that much of it stems from the fact that every Halloween, our costumes revolved around what wouldn't look too stupid with tight/leggings and a coat and gloves. I can remember one Halloween when it snowed, and that was pretty much terrible. I can also remember my sister and I getting in a fight over dumb stuff every year, someone ended up crying, and then it was all downhill from there.
One thing that I did always really like was that my sister and I always had the best and most creative Halloween costumes. We rarely bought costumes from the store growing up..."Hi, I'd like a $49.95 Tinkerbell costume that my kid will outgrow in 4 months, kthxbyeee."
Take, for example, this year. I will say this was not one of my better costumes (I was in that phase where I only wanted to be a ballerina and literally walked the neighborhood in my old pointe shoes...#woof).
I was going for Ballerina, however, I think I am more so channeling Wynona Rider in the
Beetlejuice
movie. My sister, however? A grocery bag!
While I was unable to find pictures in time for this blog entry, some other memorable costumes were me as the Pillsbury Doughboy, Tay as a Table (complete with her head as the center piece), Taylor and I as Raggedy Ann and Andy, and Taylor as a Laundry Basket (with a sock tied in her ponytail). I think my only good costume as an adult would have to be me as Audrey Hepburn circa
Breakfast at Tiffany's
.
To this day, the only thing I really like about Halloween? That Hocus Pocus is on ALL. THE. TIME. I mean you can't go wrong with that face:
And who doesn't like a good song and dance number featuring Bette Midler!?
And lastly, we have this cute virgin who lit the black flame candle...
ps- whatever happened to this kid!?
Thackary Binx turned out to be a cutie...which is good because he was kind of gross and sweaty and his nostrils flared when he was in that cage thing in the movie...
And this moment at the end?! Ugh! Thackary Binx! You heart breaker!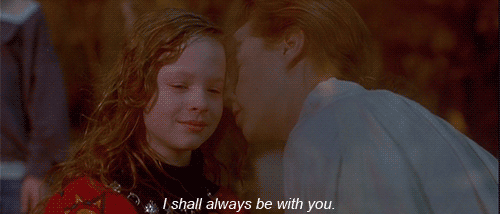 And so, dear readers, I leave you with a non-sweaty Thackary Binx in my favorite line from the movie...