Pin It
Hey friends!
Yes, I am still alive. I have been a naughty little slacking blogger lately. Life has been sooo busy, but I am loving every minute of my new life as a "Mrs."!
So as you all probably know (unless you're into that whole living-under-a-rock thing), Ms. Barbara WaWa is getting ready to air her 10 Most Fascinating People of 2012. I have been an avid viewer of this annual special for several years, mostly because Babs typically has some humdingers that leave me scratching my head..."they're FASCINATING? Let's not get carried away here. *Ahem Justin Bieber ahem*."
That being said, inspired by one of my favorite bloggers Taylor, over at The Daily Tay, I decided to compile my own list of the most fascinating people of 2012. We'll split this into two parts, because I know you'll be waiting with baited breath for the second installment (and mostly because I can't think of 10 people right now...because there are so many people I'm dumbstruck fascinated by).
10. Andy Cohen, Bravo tv.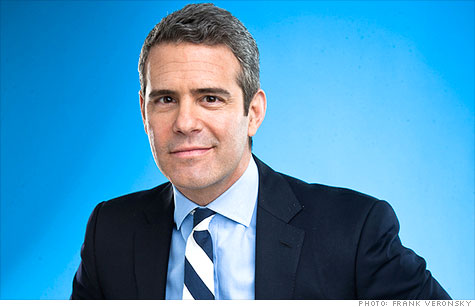 Ok, I'll admit, I love me some sweet, sweet Andy Cohen. I think that this dude, as an Executive Producer for the Bravo TV network, really has an eye for the mindless crap that will suck viewers in. And, Andy, you have made a believer out of me! Not only that, but, dear Andy, I have to commend you for sitting through all of those interviews with Theresa Guidice and not smacking her false eyelashes off of her face. Bravo, Andy. Bravo, indeed.
9. Antoine (aka, the dude that looks like an alpaca)
If you haven't seen this video somewhere on the inter webs please take a moment to view it. I think my fascination with him lies in two parts-- 1) he basically coined the phrase "hide yo kids, hide yo wife". And 2) how many people have YOU seen that look like an alpaca? And I don't even say that to be mean. I mean, seriously, he OWNS IT. You work it, you little alpaca, you!
8. Hugh Jackman
Oh, Hugh. Sweet, sweet Hugh. Honestly, is there anything that you cannot do? I've been a fan of Hugh Jackman's for YEARS. Ever since he was in that little movie with Ashley Judd, Someone Like You, and I used to listen to The Boy from Oz, which he starred in on Broadway. And now, we've got him portraying one of the most demanding roles in musical theatre and film, Jean Val Jean in Les Miserables. I admit, I'll probably be one of those cookoo's that goes to see it on Christmas Day, and I'll probably cry through the whole thing, but you know what? I ain't even mad about it.
7. Kate Middleton, Duchess of Cambridge
Full Disclosure: I'm kind of a geek about British History. Even more so when it comes to the monarchy. So, you can imagine the level of geek-dom that occurred when Price William and Kate tied the knot. And now, she's going to have a cute little royal nugget! I think Kate is fascinating for so many reasons, but among them, I think that she just seems so approachable. I find this so endearing because her grandmother-in-law is just the opposite, I feel. Additionally, I love her sense of style, and I also think that she has gotten William to chill out a little bit.
6. Mama June
I know that my girl, Babs, named Honey-Boo-Boo as one of her 10 Most Fascinating People of 2012. But, I truly think that her mom, Mama June, is the most fascinating. She is, after all, the originator of Go Go Juice and the brains behind the operation that IS Honey Boo Boo. Mama June likes to cool off in the local swamp on hot summer days, and also enjoys making lemonade with straight lemon juice and exactly one pound of sugar. Mama June also loves her man, Sugar Bear. Well you know what, Mama June? You make my heart smile.
Stay tuned for The 10 Most Fascinating People of 2012: Part Deux!