Pin It
Today, I'm linking up with Ashley from Adventures of Newlyweds for Friday Letters!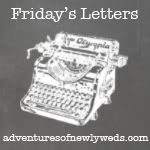 Dear November: I can't believe you are here! Welcome back! Dear Bath and Body Works: I'm greatly excited that you have brought back your Holiday candles. Especially the Balsam one that makes my house smell like a Christmas Tree (since mine is fakey-fake). Dear Hurricane Sandy: I appreciate you holding off for one week so that my wedding went off without a hitch, but man! You were a beast. Thanks for not giving it to my friends in NYC too rough. Sending prayers to all of those affected by Sandy! Dear Netflix: Thank you for having Revenge! DK and I are now obsessed with this show.
Dear DK: Thanks for being a good husband for the first 2 weeks. I think I'll keep you around. Dear Bank Account: This is your official warning that I will likely be tearing you apart in the coming weeks in order to finish out our registry items that we didn't receive. #sorrynotthatsorry. Dear Target: Thank you for giving me the biggest laugh of my week by coming over the loud speaker and announcing, "Ladies and gentleman, if there is a Savage in the building, please make your way to guest services. Again, any Savage, please head to guest services." This lead my sister and I to think that there was a terrorist in the building and we were about half a second from running and hiding in the aisle by the marshmallows.